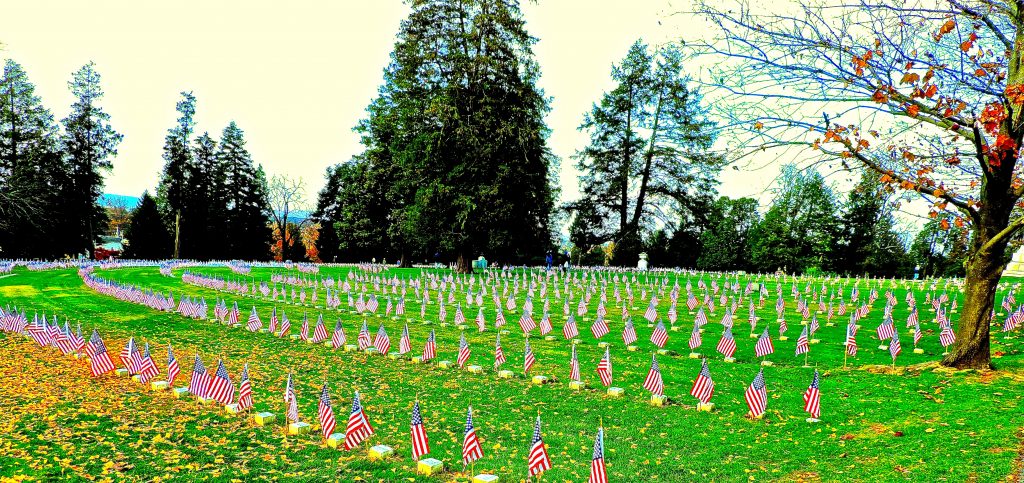 Soldiers' Cemetery, Gettysburg, PA, Nov. 2014, Author's photo.
30 May
Over the years, Gettysburg Memorial Day celebrations have featured many distinguished speakers including Rutherford Hayes, Teddy Roosevelt, Calvin Coolidge, Herbert Hoover (whose remarks were broadcast by both CBS and NBC radio networks) and Franklin Roosevelt. For Memorial Day 1963, Vice President Lyndon Johnson was invited to be the keynote speaker as part of Gettysburg's battle centennial festivities. Initially, Johnson was unenthused about making the speech, but his advisors encouraged him to attend. Juanita Roberts, Johnson's personal secretary, did not send his regrets immediately and told him, "I am excited by the possibilities it could offer."(1)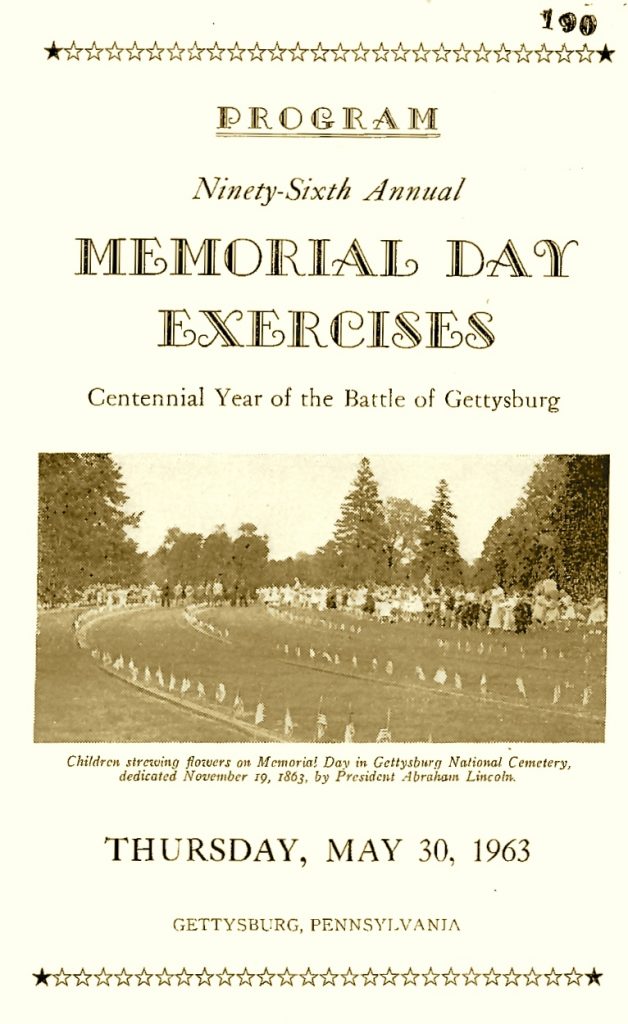 Gettysburg's Memorial Day festivities started with religious services throughout the area followed by a concert by the US Marine Corps Drum and Bugle Corp held on Lincoln Square.(2) Johnson's helicopter flew over Culp's Hill, part of the Gettysburg Battlefield, landing at Gettysburg High School's girls' athletic field where he received a 19-gun salute from the top of from East Cemetery Ridge.(3) His party, including his daughter Lynda, then traveled to a reviewing stand to watch Gettysburg's Memorial Day Parade. After the parade, Johnson, along with Girl Scout Susan Markley and Boy Scout David Simpson laid a wreath in the middle of Gettysburg National Cemetery to honor "those who died for the nation in all of its wars."(3)
The Memorial Day Festivities then moved to the Rostrum located on the grounds of the Gettysburg National Cemetery. After the Gettysburg Senior High School sang "America," Donald Swope, a Gettysburg attorney, recited President Lincoln's Gettysburg Address and the US Marine Drum and Bugle Corps played. Gettysburg resident and US Ambassador to the Netherlands John S. Rice then introduced Vice President Lyndon B Johnson.(4)
Much of Johnson's seven-minute speech came as a direct response to Rev. Dr. Martin Luther King's "Letter From Birmingham Jail."(5,1) Johnson challenged Americans – to "maintain the vigil of peace, we must remember that justice is a vigil, too – a vigil we must keep in our own streets and schools and among the lives of all our people – so that those who died here on their native soil shall not have died in vain." The last phrase of this quote echoed President Lincoln's line from the Gettysburg Address. Johnson continued his challenge by stating, "Our nation found its soul in honor on these fields of Gettysburg one hundred years ago. We must not lose that soul in dishonor now on the fields of hate."(6)
After making his remarks, Johnson and his party needed to return to Washington, DC. During the benediction and the US Marine Drum and Bugle Corps playing "Star Spangled Banner," he and Lynda stood at attention in the car which would return them to the helicopter.(3)
Vice President Lyndon Johnson's trip to Gettysburg on Memorial Day 1963 lasted only 2 hours and 34 minutes and outside of central Pennsylvania, his trip was reported as a second-day story.(1,5) Despite the lack of attention received, Johnson's Gettysburg speech was a prelude to his civil rights fight.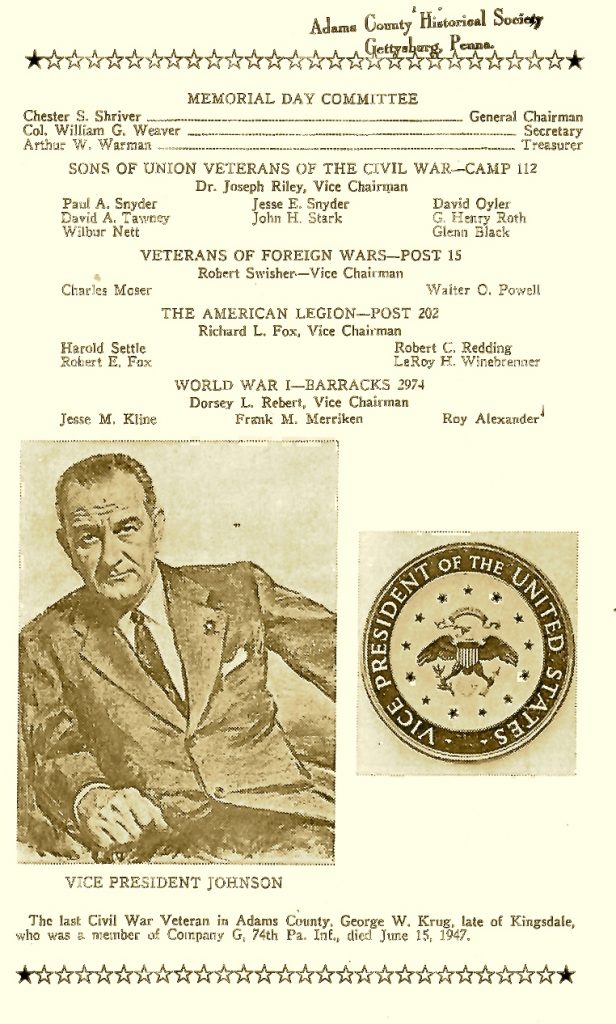 In an article written when President Johnson died in 1973, Harry McLaughlin, the journalist who covered the speech for the Harrisburg Patriot-News, thought Johnson's words still had so much meaning that he included the whole text with his recollections of Memorial Day 1963. The speech can be found on the LBJ Presidential Library's website –http://www.lbjlibrary.net/collections/selected-speeches/pre-presidential/05-30-1963.html
_________________________________
Special thanks to the Adams County Historical Society, Gettysburg, PA, and the LBJ Presidential Library, Austin, TX for assistance in writing this entry.
1DM Shribman, "L.B.J.'s Gettysburg Address," New York Times, May 26, 2013, SR8.
2"19-Gun Salute Will BE? Given Vice President On Arrival Here Today," The Gettysburg Times, May 30, 1963, 1.
3"Vice President Pleads For End Of Hate Among Men In May 30 Address," The Gettysburg Times,May 31, 1963, 1.
4Program Ninety-Sixth Annual Memorial Day Exercises, Gettysburg, PA.
5Harry McLaughlin, "One of LBJ's Greatest Talks at Gettysburg," Sunday Patriot-News, January 28, 1973.
6Press Release, "5/30/63, Remarks by Vice President, Memorial Day, Gettysburg, Pennsylvania," Statements File, Box 80, LBJ Library.