I have enjoyed Mr. Youngblood's book immensely, as I know personally so many people of whom he writes. This is an excellent description of the duties—both personal and official—of the Secret Service, and I am a great admirer of their organization.

-Mamie Doud Eisenhower (1973)

This is an 'insider's book' simply because there is no one more inside the public and private personalities of top government executives than Rufus Youngblood. His matchless description of the senseless murder of President Kennedy in Dallas could be written only by someone like Youngblood. I was there in Dallas, but like so many others, I saw fragments. Rufus saw it all and lived every horrible minute. And his portrait of LBJ, strong leader, great heart, large warts, is history stuff. It's a simple book about complex men and absorbing events. Funny thing, I never knew Rufe could write this well, which shows the Secret Service is pretty good at keeping secrets about themselves as well as presidents.

-Jack Valenti (1973)

President, Motion Picture Association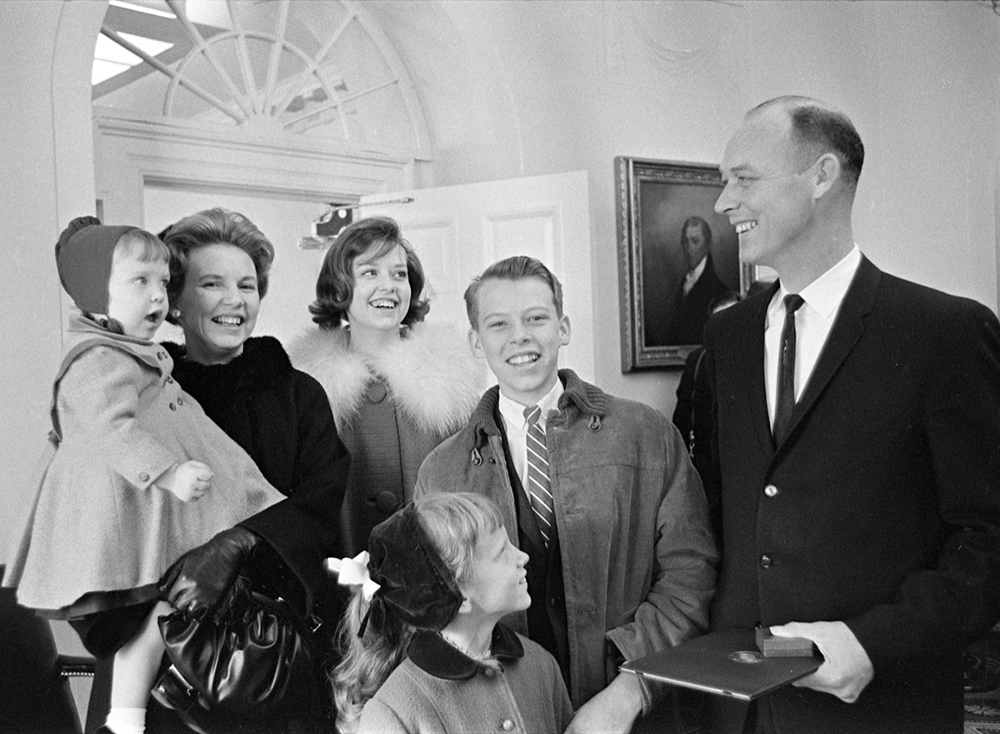 Photo Credit: WHPO
Over the years, I have become more and more intrigued by my parents' life stories. They were everyday people who overcame many challenges (the death of a young father, an alcoholic father, the Depression, World War II, constant separation...). They grew together and raised a family while brushing shoulders with some of the country's most notable people, bearing witness to some of history's most dramatic events.

I set out to write their life story. In doing so, I reconnected with many of their dear friends and family members who shared their special memories with me. Around this time, my siblings and I were approached by different people who were interested in rekindling Dad's story.

I dove into my parents' photographs, personal letters, and, finally, the boxes and boxes of my father's Secret Service archives which had been stored in my basement for years. Among the files were correspondences regarding the publication of Dad's book, 20 Years in the Secret Service: My Life with Five Presidents, with itineraries of his active book tour, including his appearance on The Tonight Show with Johnny Carson. I found letters written by my father referencing his disappointment in the denial to use photographs in the book and the limitation of the release to hardback. He often joked that his book didn't stand a chance against the book The Joy of Sex, which was released around the same time.

That's when I rediscovered my father's memoir. It had been there all along— safely displayed on my bookshelf for years, quietly collecting dust. Of course, I had read it in the past. But, my greater understanding of the related history rekindled my interest. Or, perhaps the story simply ripened with age.

This memoir is a firsthand account of some of our country's and our world's most defining moments—the Cold War, the Vietnam War, the Civil Rights movement, and the tragic assassinations of President John F. Kennedy, Martin Luther King Jr., and Robert F. Kennedy—from the unique perspective of a Secret Service agent. Radical changes occurred in the country during our father's tenure reflected by changes in the Agency itself, some of which are exemplified in the five Inaugurations he participated in—from the outgoing President and Mrs. Truman leaving Washington, D.C., bidding farewell to their agents from their train, presidential motorcades in open cars, and open ceremonial stands, to former-presidential protective details, armored car rides, and bulletproof enclosures.

With support from my siblings, I decided to republish Dad's book. But first I had to polish this gem, so I spent a year visiting archives, mostly in presidential libraries, digging through photographs in search of the best images to add to this historical time capsule. I also updated the text to the current writing style while driving my editor crazy with the handling of the word "president," (written over eight hundred times in this book), and have fretted over the placement of every word and image laid down on each page. Many who have worked with me would concur. And now, at last--it's ready.
I truly hope that readers will find this memoir insightful regarding a critical period of American history. It was written by a man who genuinely loved his country and his role in the U.S. Secret Service.
-Rebecca Youngblood Vaughn
Daughter of Rufus and Peggy Youngblood