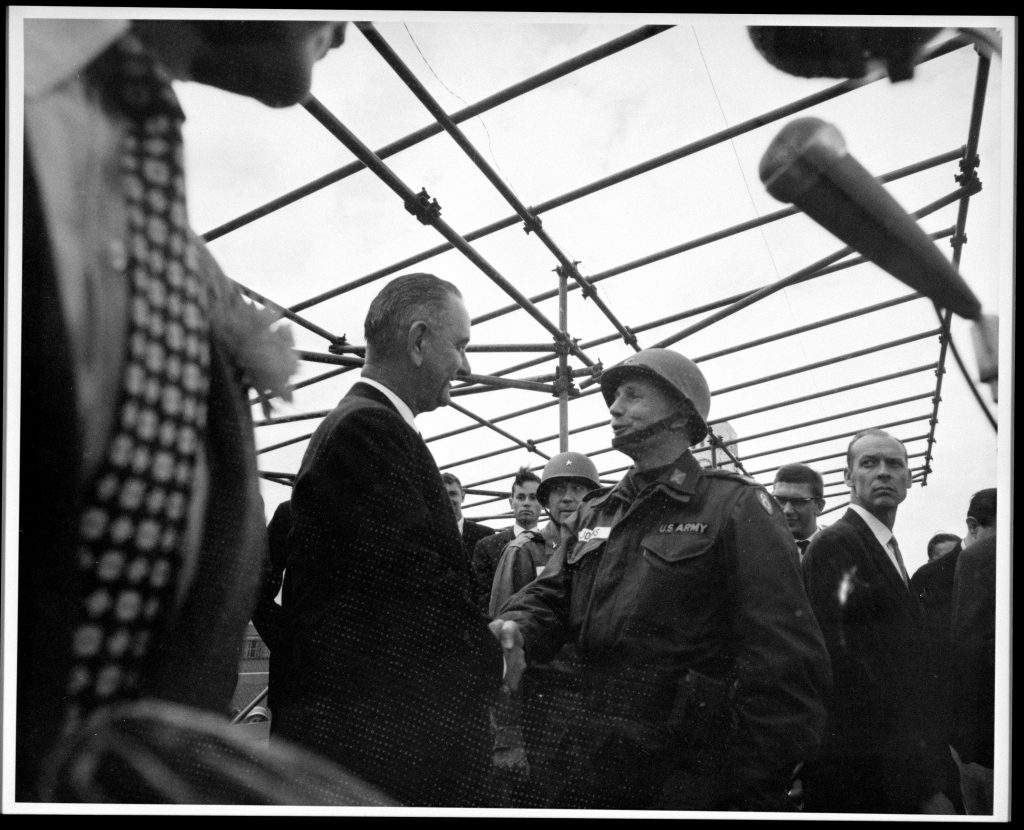 LBJ, Col. Glover S. Johns, 1st Battle Group, 8th Infantry Div., RWY watching over, West Berlin, August 20, 1961, LBJ Library.
20 Aug
I am a big fan of  Tom Hanks and Steven Speilberg movies and enjoyed the movie "Bridge of Spies." I envision scenes from this movie when I think about my father touring the Communist-controlled, Eastern sector of Berlin on August 20, 1961 (on this day fifty-seven years ago) —just one week after the construction of the Berlin Wall began.
__________________________
The Soviets started building the Berlin Wall on August 13, 1961, and tensions mounted as the Cold War hostilities intensified. Promptly, to reassure the West Berliners of American support, President Kennedy dispatched US troops and sent Vice President Johnson and retired General Lucius Clay, admired by the Berlin people since his leadership during the 1948 Berlin Airlift, to the city. The vice president's "2-man detail," my father and Agent Stu Knight, accompanied LBJ on this trip—having learned of it on the day of departure. "There is no way to advance a trip that begins on the day you find out about it," wrote my father. Fortunately, the German security team for Chancellor Adenauer helped fortify LBJ's protection. 
Upon arrival in West Berlin, Vice President Johnson met with Mayor Willy Brandt, then spoke to a large assembled crowd and delivered President Kennedy's pledge to maintain the city's freedom. The two leaders then motorcaded through the streets of Berlin. "That it was a rainy, dull afternoon apparently did not keep any Berliner capable of getting into the streets from doing so," wrote my father. Throngs of enthusiastic people engulfed the vice president's limousine as his security men trudged through the street, pushing against the mass of people as they slowly wound through the city.
On the following day, August 20, 1961, LBJ toured the border of the city's western sector and met the US Army troops of the 1st Battle Group, 8th Infantry Division, as they rolled into West Berlin. This military convoy of almost 500 vehicles had crossed through East Germany in full battle armor to reach West Berlin.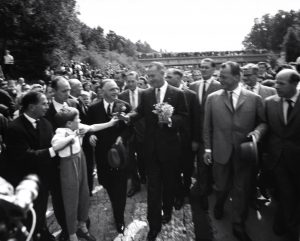 US State Department officials tried to dissuade Vice President Johnson from meeting the troops upon their arrival. LBJ retorted, "Who says I can't go out there? The hell I can't! With Stu and Rufe, I can go anywhere!" 
But "Stu and Rufe" discouraged him from visiting the eastern sector of the city. LBJ reluctantly abstained and allowed his trusted agents to tour Communist-occupied East Berlin with a group of American officers in his stead.
I can imagine my father and Agent Knight in their dark suits and black dress shoes walking among uniformed military men of opposing sides along  the worn streets of this confined city–in a setting not unlike something from "Bridge of Spies."
__________________________
Link:
https://www.youtube.com/watch?v=9XUVCtCEoy4
Crowds greeting LBJ and Major Brandt in West Berlin. August 20, 1961. From the booklet, "A City Torn Apart: Building of the Berlin Wall."  CIA's Historical Collections webpage.(no audio)