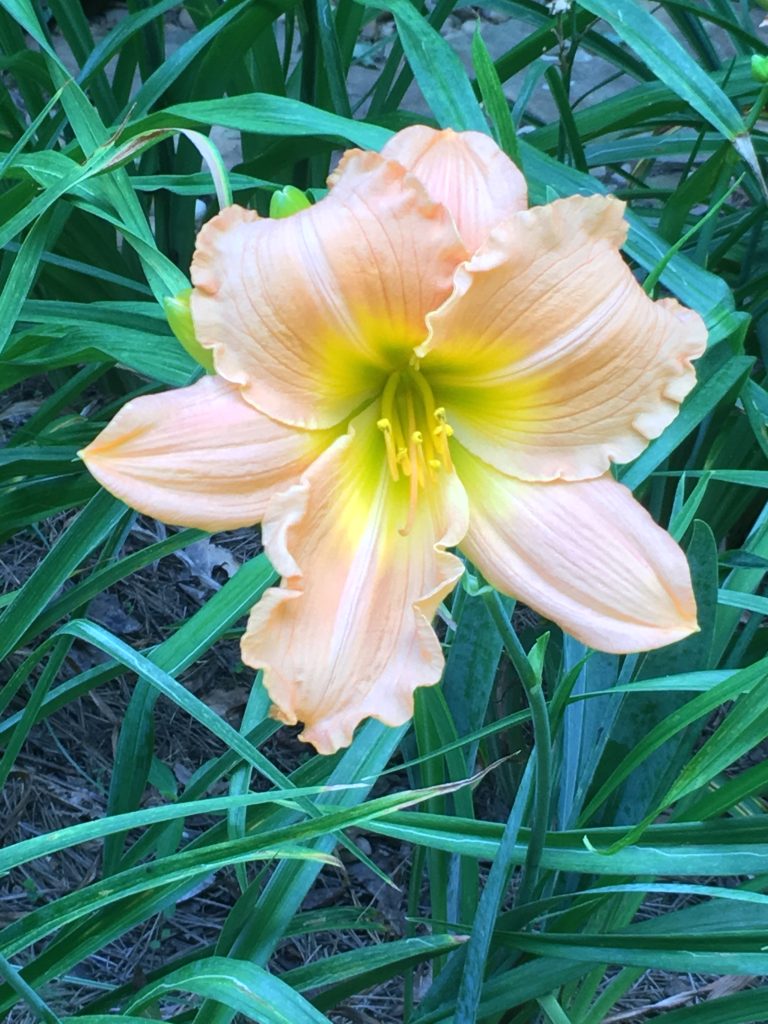 Daylily, RWY Collection
17 Jun
Every year, around Father's Day, my garden bursts with a kaleidoscope of flowering daylilies. Some are solid; some are variegated. Some have ruffled fans, green throats, patterned dips, soft violet eyes—terminology my father used when describing them. They came from his yard in Savannah where my husband and I rescued them after my father's death. Throttled by vinca vines, slowly sinking into the sand, some of the once neatly labeled specimens were lost after he could no longer care for them. But, most of them live on—in my yard and in those of our family and friends—blooming every Father's Day.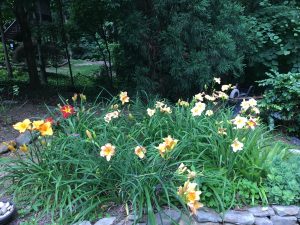 Below, our family shares some of our memories of our father and grandfather with a closing blog by Amy Youngblood Zukoski.
______________________________________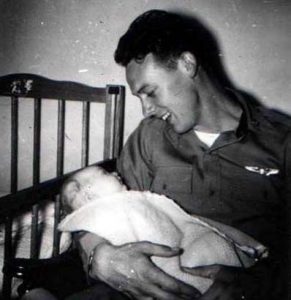 Joy – Even though we often deserved being reprimanded, Daddy would always apologize after he scolded us. He had such kindness and heart.
Mark – "Only difference between men & boys is the price of their toys." God rest his great father soul.
Candy – I remember how much Dad loved animals. It led to a pet menagerie in our house on Echols Street. They were usually in pairs or "matching pets." As an elementary-age child, I remember having two Guinea Pigs, two ducks, two turtles, two kittens, and two dogs over the years.
Rebecca –  Shortly after he retired, my father and I used to take nature walks together in the lush woods of Hilton Head Island. We walked for hours, mostly in silence to hear the birds, although, he never missed an opportunity to educate me about some species. He especially loved the pileated woodpeckers, pronounced precisely, "pī-lē-ā-təd."
______________________________________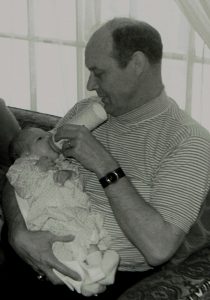 Tonya – My favorite memories of Grandad were the walks he would take my sister, Ginna, and I on. First in a stroller, then holding our hands. They were not just walks but little adventures that gave you a better appreciation of the world around us. Whether it was sneakers hanging from a phone wire or animal dens under the trees, he somehow educated you in a way that was both fun and interesting. He turned hunting for golf balls into the world's largest Easter egg hunt. I miss his fierce love of nature and all that was in it.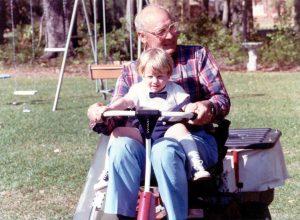 Tiffany – My grandparents cared for us when we lived in Savannah while my parents worked and my mom went to night school. My grandfather loved spending time with us—playing board games, doing puzzles, and teaching me about his favorite flower, the daylily. He took me to all of his social events at the daylily club. He also drove the carpool, which made it possible for me to attend a private school across town. On Fridays, he did pick up and brought EVERY child in the car a milkshake on the way home to our houses.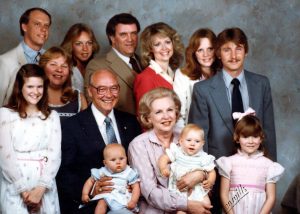 Ginna – Four things come to mind when I think of my grandfather, Rufus W. Youngblood: honor, nature, humor, and family (not necessarily in that order). Most publicly known for his honor of our Nation while protecting Vice President Johnson on that unforgettable day in Dallas, my granddaddy was all of that brave man, but oh, so, so much more.
I loved visiting my grandparents in their Savannah, Georgia, home for the walks we would go on with my grandfather. He patiently explained what every species along the journey was and lit up with delight at our expressions of awe and fascination. Granddaddy loved and knew every creature, whether it was crocodiles and their adoration of marshmallows (seriously), what soil to plant his prize-winning daylilies in, or where the best crabbing holes were to bring back for Grandma to boil for supper that night.
A surprisingly well-hidden charm of my grandfather's was his humor. Underneath that dry smile and deep tone, was quite a jocular man. When you least expected it, you'd turn around, and he'd offhandedly introduce yet another of his grandchildren to the inappropriate humor of his favorite movies or funny wallpaper the adorned his home office. He saw no harm in sharing with us his love for a good joke. Albeit the humor a bit "off-color," the source was pure and always well-intended.
The three aforementioned qualities are what he shared most with his family. We were his honor and his pride. He always instilled his love for nature in each of us. He held us all very close with few words and boundless admiration. Every grandson went through the passage of their lawnmower ride with granddaddy and every granddaughter of his honest appreciation of our beauty (inside and out). When I think back to Granddaddy, my lips gently smile, as I can feel the discreet laughter and love his eyes held, that will forever be-stilled in my heart.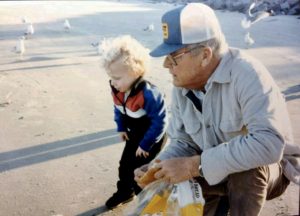 Adam – Grandfather was always there for us grandkids. From taking us fishing, gigging, golf ball hunting to finding snakes and lizards in Savannah. He was a great man and is missed very much.
______________________________________
Amy – On this day, I want to reflect on the life of a man who was brave enough to stare death in the face–Rufus Wayne Youngblood, my grandfather. I loved everything about him.
I used to boast to the kids in my elementary school that my grandfather was really important because he was a US Secret Service Agent, you know, like a spy. Their eyes would roll. They often tired of my constant references about him–and about Georgia. 
Both of my parents' families were from Georgia, and everybody else in my family lived in the South. We had moved from Atlanta to Wallingford, Connecticut, when I was a little girl. To the kids in my new school, I was the girl with long blonde hair and funny accent. To my cousins, we were the "Yankees" or "the Connecticut cousins." 
My parents made a yearly pilgrimage to Savannah to visit family and "get us back to our roots."  And from ages six through nine, my little brother, Adam, and I spent a week during the summer with our grandparents while our parents traveled to the Caribbean. From these visits formulated some of the best memories I have of being a kid. 
I remember waking up–not a care in the world–the smell of coffee and a clean kitchen. When I entered the kitchen, I would often find my grandfather at the table reading the newspaper with WSAV on the morning news. He would flash a big smile at me saying, "Good Morning Amy, would you like some peanut brittle or black licorice?" I would giggle, and this would invariably provoke a reaction from my grandmother. She would snap, "No, Wayne that is not breakfast!" (My grandmother never called him "Rufus." He had always been "Wayne" to her.) Then, he would also giggle and lead me to the pantry and hand me a popular childhood cereal–usually something he had taken my cousin Tiffany to pick out.  
There was so much for a kid to do at their home on Clarendon Drive in Wilmington Island Park. We played on the back-porch hammock. Sometimes we were fussed at for swinging it too high.  We often ran on the golf course and snatched stray balls (not knowing it was forbidden until we were once caught). We also put together big puzzles. This was the only place where I had the patience to put a puzzle together from start to finish. 
I used to stare into the abyss of my grandmother's dresses and try on all of her high heels. I would do my make-up and get dressed "fancy." We also rode on the riding-lawn-mower with our Granddaddy, and he would let us drive too! After all the make-believing and shenanigans were over, we would have lunch.
Lunch often involved an outing—to McDonald's for "Happy Meals" or the S&S Cafeteria. Afterward, we would stop and get a sweet treat. Granddaddy taught us about the "hot" sign at Krispy Kreme, and, to this day, I still scream, "hot donuts," when I drive by with my kids.  On some of our excursions, Granddaddy took us to Sandie's, the local hobby shop, where I got dollhouse furniture, and my brother got some collectible, usually something to do with a reptile of a sort. There was, of course, a price limit. We were taught the value of the dollar.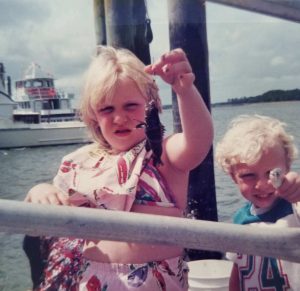 We took little trips all over Savannah. Sometimes Granddaddy took us fishing. While this was my least favorite venture, my brother was always thrilled with it. I usually complained about putting the worm on the hook, and, as I whined, Granddaddy would say, "Now, Amy, don't scare the damn fish away." On the way home, he played Neil Diamond or sang "Boot Scooting Boogie."
If there was rain—and there often was—it was movie-time. Granddaddy offered a VCR movie asking, "Do y'all want to watch Spaceballs or Jaws?" We laughed a lot. 
We would check out Granddaddy's office which contained stacks of newspapers, magazines, and really cool pictures. One would think we would question the décor of presidential photos and memorabilia lining the walls. But we didn't. I knew his title as the Deputy Director of the United States Secret Service, but I never really put a great deal of focus on all the stories behind the people my grandfather had encountered or worked with during his career. We were more impressed with the funny things he said or did. So, to read his book after all of these years has been a great experience for me. It is a glimpse into his professional career, and, at the same time, it is a better understanding of our country's history. I better appreciate what an amazing grandfather I had.