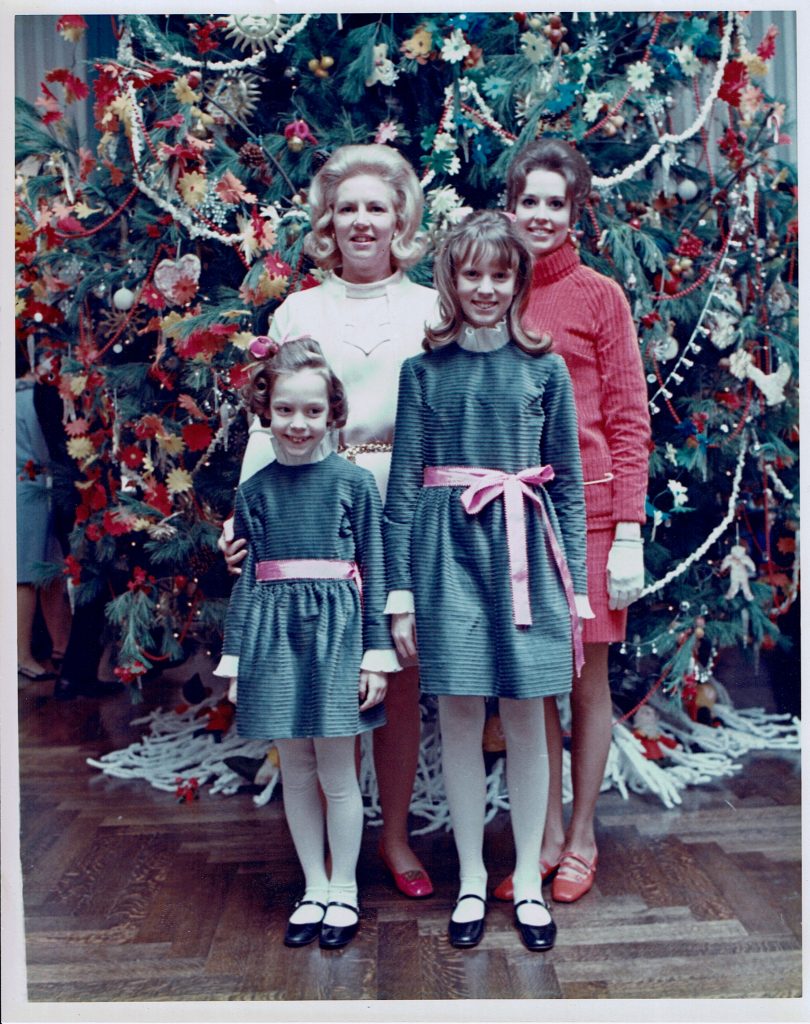 Peggy, Joy, Rebecca, & Candy Youngblood, White House, Dec. 1968, WHPO, RWY Collection.
22 Dec
This photograph of my mother, sisters, and me, taken in December 1968 at the White House, brings back many memories. My mother made matching dresses for my sister Candy and me to wear to the event. I thought they were pretty, but I can't say the same for the way she styled my hair.
I was happy that my oldest sister, Joy, was there with us. It was the only time she was able to come to the annual Christmas party hosted by the Johnsons for the Secret Service agents and other staff members' families. Joy married Lt. Darrell R. Rumpf, Jr, in 1965, and lived in various US Army bases while he was in officer training.
Before that, however, Joy was no stranger to the White House. She had visited it numerous times when our father worked on President Eisenhower's White House Detail. She and my brother, Mark, had attended several holiday events there. Also, having a single family car, they often rode with our mother transporting Dad to and from the White House when she needed the car.
Joy had even visited Lynda and Luci Johnson's "teen room" on the top floor of the White House. Lynda had graciously invited Joy over for some birthday cake since the two girls were born on the same day, one year apart. Lynda had jokingly cautioned Joy to go easy on her servings since the cake was a rum cake. All three young ladies later married men who served in the US military and shared the hardship of having a husband away at war at the same time.
Joy and Darrell had been living in Schofield Army Barracks in Hawaii when Darrell was deployed to Vietnam. A Registered Nurse by this time, Joy moved back to our home in Vienna, Virginia, where our mother transformed our musty smelling basement into a cozy, one-bedroom apartment for her.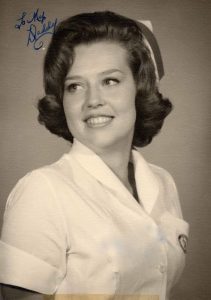 While home with us, Joy worked in the Vienna Medical Clinic founded by Dr. Tibor Ham, from Hungary, who had worked in the anti-Nazi resistance during World War II. One of the physicians she worked for was Dr. Schindler, whom my sister remembers as being a relative of Oskar Schindler–the namesake of Steven Spielberg's movie, Schindler's List. Many of their patients still bore tattooed, serial numbers on their wrist from being in concentration camps. At first, Joy thought she was operating the clinic X-ray machine improperly when a multitude of the films came back "cloudy." Dr. Ham explained to her that these images reflected scarring from tuberculosis infections acquired during their internment.
As a 7-year-old, oblivious to many of these hardships, I was happy to have my sister back home with us. When she came home from work, I would run down the basement stairs to be with her. She looked almost angelic to me in her white uniform and neatly pinned nurse's cap. I would sit on her bed and talk to her while flipping through pictures in her nursing books, aspiring to pursue a career in such an admirable profession.
Joy worried about Darrell, a 2nd Lt. of the 25th Infantry Division, nicknamed "Tropic Lightning." He served as a forward artillery observer, dangerously positioned behind enemy lines. They wrote to each other daily. And then, one day, his letters abruptly stopped. For two long months, she knew nothing of his whereabouts.
Finally, she learned that Darrell was being hospitalized for an infected leg injury. Later, he would describe to her how he had been trapped in a tiger cage until a local mountain tribe had rescued him. After several months of recovery, Darrell came home in late December 1968, not long after the above photo of us in front of the Christmas tree was taken. It was a joyous Christmas for our family having him back.
______________________________________
But, so many families were not as fortunate. As I write this, I think of the reported 58,220 US lives lost in the Vietnam War. My heart goes out to those whose loved ones never returned. 
______________________________________
Links:
https://www.cnn.com/2013/07/01/world/vietnam-war-fast-facts/index.html