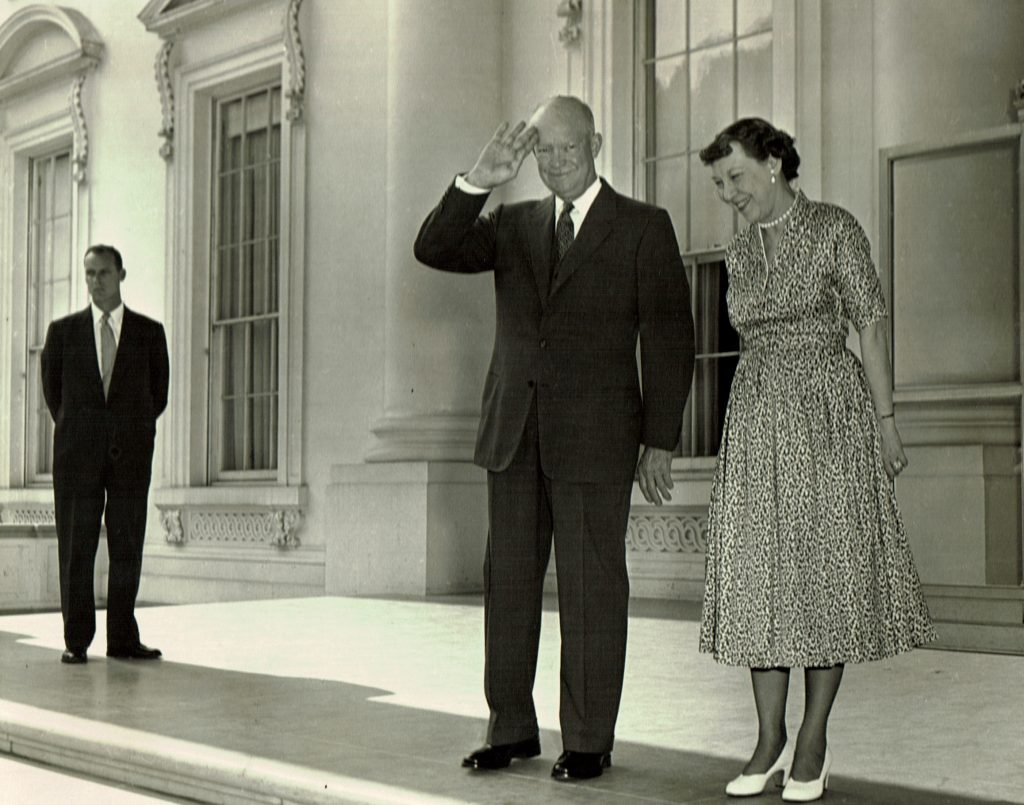 Agent Youngblood stands guard over President and Mrs. Eisenhower, May 1954, NPS, RWY Collection.
27 Jul
"When I called on the Eisenhowers, Mamie would always remind me to "look after the General," and Ike, who always seemed to be on his way to the golf course, would pause long enough to say, "Take good care of Mamie, Mr. Youngblood.'"
Several months before I entered medical school, my parents and I visited Augusta, Georgia, the school's location, to search for a place for me to live. I wasn't very familiar with the city, but my father was, and he navigated the streets with ease. When I inquired about this familiarity, he responded, somewhat dismayed, "Hell, Rebecca—I used to come here all the time with Ike!"
Indeed, I should have known this. But, at twenty-two-years-old, I had a very different focus, and my father's experiences before my birth were not forefront in my mind. It did strike me as odd that, despite my father's utmost respect for former President Eisenhower, he usually referred to him as "Ike."
To learn more about "Ike," I have visited the Eisenhower Library, read biographies, watched documentaries, and reviewed my father's references about this fascinating president whose photograph hung on the walls of my parents' home ever since I can remember.
*****
Born on October 14, 1890, Dwight David "Ike" Eisenhower, a poor boy from "the wrong side of the tracks" in Abilene, Kansas, was the most mischievous of six boys in his intellectual family. He was a good athlete with a keen mind and was accepted to West Point, which he sought for the free education and opportunity to play football, the latter of which was precluded by a knee injury.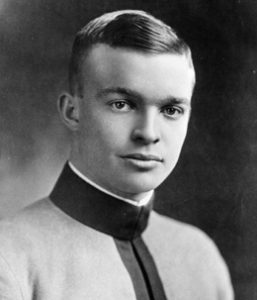 After graduating from Westpoint, Eisenhower was stationed at Fort Sam Houston in Texas where he met Mamie Geneva Doud. She described him as "the handsomest male I had ever seen." His photographs do indeed depict a very handsome young man, in my opinion.
On July 1, 1916, twenty-five-year-old Army Lt. Eisenhower married nineteen-year-old Mamie at her parent's home in Denver, Colorado. This house would later be known as the "Summer White House" upon President Eisenhower's visits. He enjoyed his favorite outdoor activities in Colorado: golfing, hunting, and fishing. My father was frequently among the agents assigned to protect him there.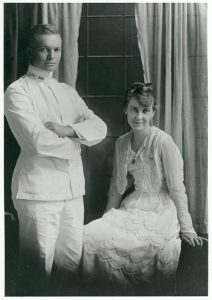 In September 1917, Ike and Mamie had a son named Doud Dwight, nicknamed "Little Icky." (often also spelled Ikky.) Tragically, their beloved son died at age three after contracting scarlet fever. Eisenhower would later write, "It was a tragedy from which we never recovered." Every year, on the day of Icky's birth, Ike sent Mamie flowers. Their second son, John Sheldon Doud, was born a year after Icky's death. John helped bring happiness into his parent's lives again.
Eisenhower's Army career progressed slowly at first. At one point, he was mentored by Brigadier General Fox Connor who tutored Eisenhower in history and military strategy. But it was the assignment in the Philippines as an aide to General MacArthur which landed Eisenhower in the War Department after the attack on Pearl Harbor. Army Chief of Staff General George C. Marshall recognized Eisenhower's astute analytical skills, and the rest is history: Eisenhower advanced to become the Supreme Commander of the Allied Forces and a five-star general. He led the crusade to defeat Nazi Germany.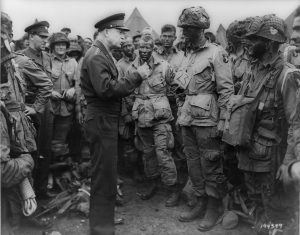 After the war, Eisenhower was lauded as a hero and was admired worldwide. In 1948, he retired from the Army to become president of Columbia University, and he penned his book, Crusade in Europe. Upon the request of President Truman, he became the Supreme Commander of the newly organized NATO.
A reluctant politician, Eisenhower initially resisted requests to run for president, but his concerns for post-war policies drove him to do so. Running on the Republican ticket in 1952 with Richard Nixon as his vice president, he easily won the election and became the thirty-fourth president.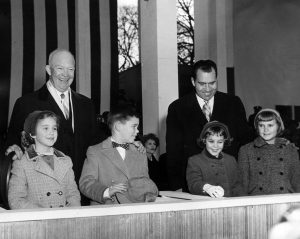 Wasting no time, just weeks after his election in November 1952, Eisenhower, the former general who hated war, headed to the war zone in Korea. The Secret Service detail who traveled with the president were faced with a security nightmare. Per my father, who was not among this detail at the time, "Ike insisted on visiting the front lines. Of course, front lines were nothing new to Ike, but on one occasion he stopped at a place where an American GI was killed by a sniper scarcely twenty-four hours later. More than once, the areas he visited were overrun and taken hours later by the enemy." 
Six months later, the Korean Armistice was signed on July 27, 1953, ending three years of fighting. Thereafter, Eisenhower maintained peace and prosperity in America during his eight years as president.
Inspired by the ease of mobility on Germany's Autobahn, Eisenhower passed the Federal Highway Act of 1956 which funded thousands of miles of interstate highway development resulting in more efficient, safe US transcontinental travel and evacuation routes. 
Eisenhower's presidency was not without criticism. Though Eisenhower signed the Civil Rights Acts of 1957 and 1960 and sent federal troops to Little Rock, Arkansas, when violent mobs tried to block school desegregation, he was criticized for being reactive more than proactive regarding Civil Rights.
On January 20, 1961, Eisenhower completed his presidency, and John F. Kennedy became the thirty-fifth president. Of that day, my father wrote, "I had the pleasure of taking the last walk with Ike in the White House as he toured the offices of the West Wing, saying goodbye to people who had worked hard and faithfully with him for eight years."
Eisenhower requested reactivation of his commission as a five star general in the U.S. Army, and President Kennedy obliged. "The General" retired to his home outside of Gettysburg, Pennsylvania, where he enjoyed painting, among his other activities, and worked on his memoirs with the help of his son, John. He also served as the "president's president," offering counsel to the acting Commander-in-Chief intermittently over the years— regardless of their political party.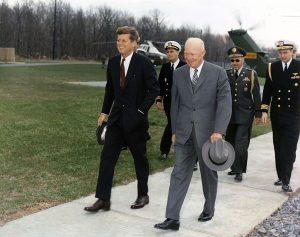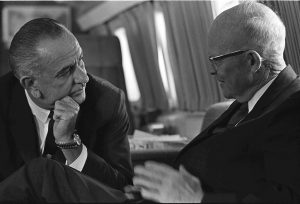 Incredibly, the Eisenhowers didn't have Secret Service protection after the presidency until September 1965 when President Johnson signed legislation to extend protection for former presidents and their families. Special Agent In Charge Herbert Dixon and Agent Jim McCown headed the Eisenhower Detail and my father, promoted to assistant director of protective forces by then, visited Gettysburg regularly. He wrote, "When I called on the Eisenhowers, Mamie would always remind me to "look after the General," and Ike, who always seemed to be on his way to the golf course, would pause long enough to say, "Take good care of Mamie, Mr. Youngblood.'"
Eisenhower had a long history of heart disease. My father was among the agents protecting the president in Colorado when the president suffered his first heart attack in September 1955. Just over ten years later, shortly after the Eisenhower Detail was established, Eisenhower suffered another major heart attack in Augusta, Georgia. My father flew to Fort Gordon Army Hospital where Eisenhower had been admitted, and Mamie praised Agent Dixon and the other agents for responding so promptly, getting her husband to the hospital so quickly. With tenacity, Eisenhower pulled through.
But on March 28, 1969, after a series of other heart attacks, the mighty General died of congestive heart failure at the age of seventy-eight at Walter Reed Army Hospital. After the formal state funeral and memorials, his body was taken by train to Abilene, Kansas, where he was laid to rest next his son, Icky.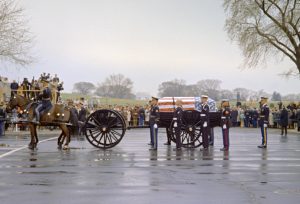 *****
In a 1992 Ga Tech Alumni Magazine interview, my father said of President Eisenhower, "I thought of him as my commanding officer. I felt like we had won WWII together…." 
I now understand why the affectionate nickname used in the clever campaign slogan "I Like Ike" was embedded into the hearts of so many Americans, including my father's.  I Like Ike, too.
________________________________________________________________
Sources :
Ambrose, Stephen E. Eisenhower: Soldier and President. New York: Simon & Schuster, 1990.
Bosch, Adriana, and Daniel McCabe. "The American Experience – Dwight D. Eisenhower," 1993, https://video.search.yahoo.com/search/video?fr=aaplw&p=The+American+Experience+-+Dwight+D.+Eisenhower#id=1&vid=3197624bac0a9d075b06a14ec463a826&action=click. 
Dwight D. Eisenhower Presidential Library, Museum and Boyhood Home, Abilene, Kansas, site visit September 2016.
Dwight D. Eisenhower Presidential Library, Museum and Boyhood Home Website. Accessed July 25, 2018. https://www.eisenhower.archives.gov/all_about_ike/army_years.html.
https://www.eisenhower.archives.gov/research/online_documents/civil_rights_act.html
"Dwight D. Eisenhower," Accessed July 23, 2018. https://www.history.com/topics/us-presidents/dwight-d-eisenhower
Eisenhower, Susan. Mrs. Ike: Memories and Reflections on the Life of Mamie Eisenhower. New York: Farrar, Straus and Giroux, 1996.
Goettling, Gary. Ga Tech Alumni Magazine, Spring 1992.
Newton, Jim. Eisenhower: The White House Years. New York: Anchor Books, 2011. 
Perret, Geoffrey.  Eisenhower.  New York: Random House, 1999.
Smith, Jean Edward. Eisenhower in War and Peace. New York: Random House, 2012.
Youngblood, Rufus. 20 Years in the Secret Service: My Life with Five Presidents. Indianapolis, Indiana: Fideli Publishing, 2018.