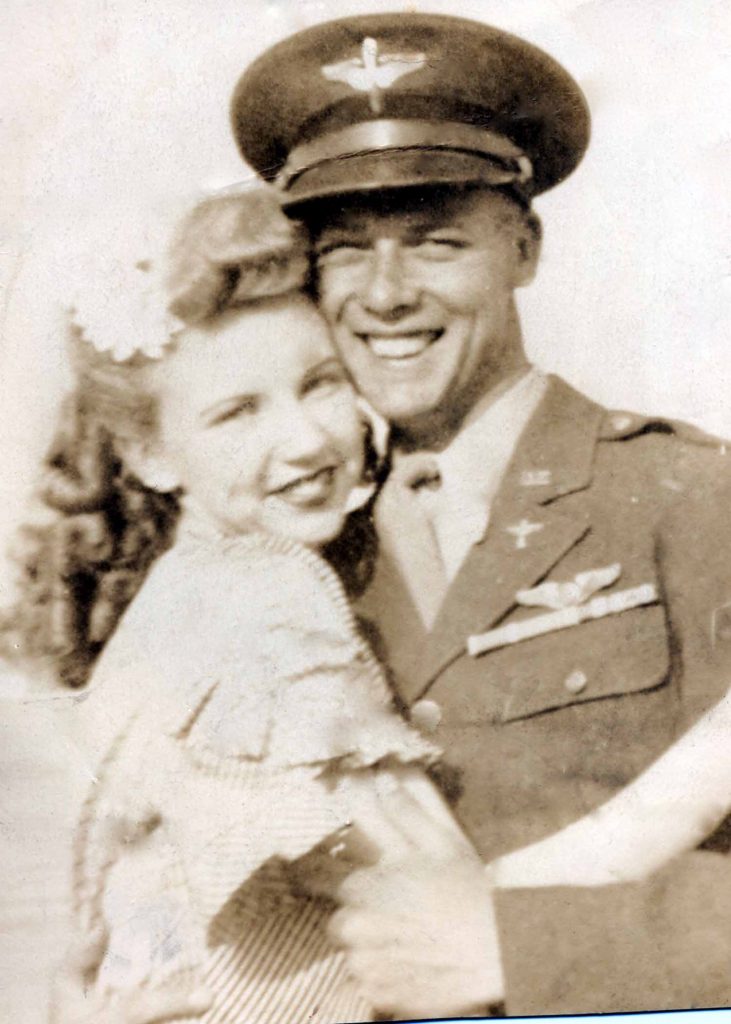 Peggy and Rufus, 1945 (RWY Collection)
13 May
During WWII, eighteen-year-old Rufus Wayne Youngblood painted the words, "PEGGY 'THE GEORGIA PEACH'," under his B-17's waist gun window. After all, she embodied the reason he was fighting. He explained in a letter to her, "I want to do my part…to ensure the safety of you, mother, sister, and many others…". 
He loved his country, and he loved our mother, Peggy Denham Youngblood, whom he described as "beautiful, inside and out."
He wrote hundreds of letters to her, which she saved until her dying day. Many referred to her as, "Peg O'My Heart," quoting the popular song of the same name.
They had met in grade school while living in Atlanta, Georgia, during the Depression and became high school sweethearts. They married in July 1943, during the war, and were lifetime partners for fifty-three years until our father's death in 1996.
Peggy was a compassionate, creative, and intelligent person. She was also a hard worker, and, beginning in her teens, she maintained employment to help support her family. She worked during the war as a Southern Belle operator, then for the Charleston Navy Yard. She worked while our father was in officer training school and, later, when he studied at Georgia Tech for his industrial engineering degree. After he was employed by the U.S. Secret Service and was away so often protecting presidents, she became the CEO of our family—managing the household and caring for us.
She was a source of strength for him. Her clever wit provided humor, buffering our father's work stressors. And she consoled him after that horrible day in Dallas, Texas, when he came home and broke down and cried.
There is much more to say about this amazing woman, but I will conclude with the simple truth on this Mother's Day that she was a wonderful mother. I am grateful to be her daughter.  
Happy Mother's Day to the great mothers out there!